Hi, I've finally released ModernGlance 2! More than a screensaver!
Gli utenti che parlano italiano possono visionare il changelog ufficiale in lingua italiana su WindowsBlogItalia cliccando qui
ModernGlance 2 announcement video: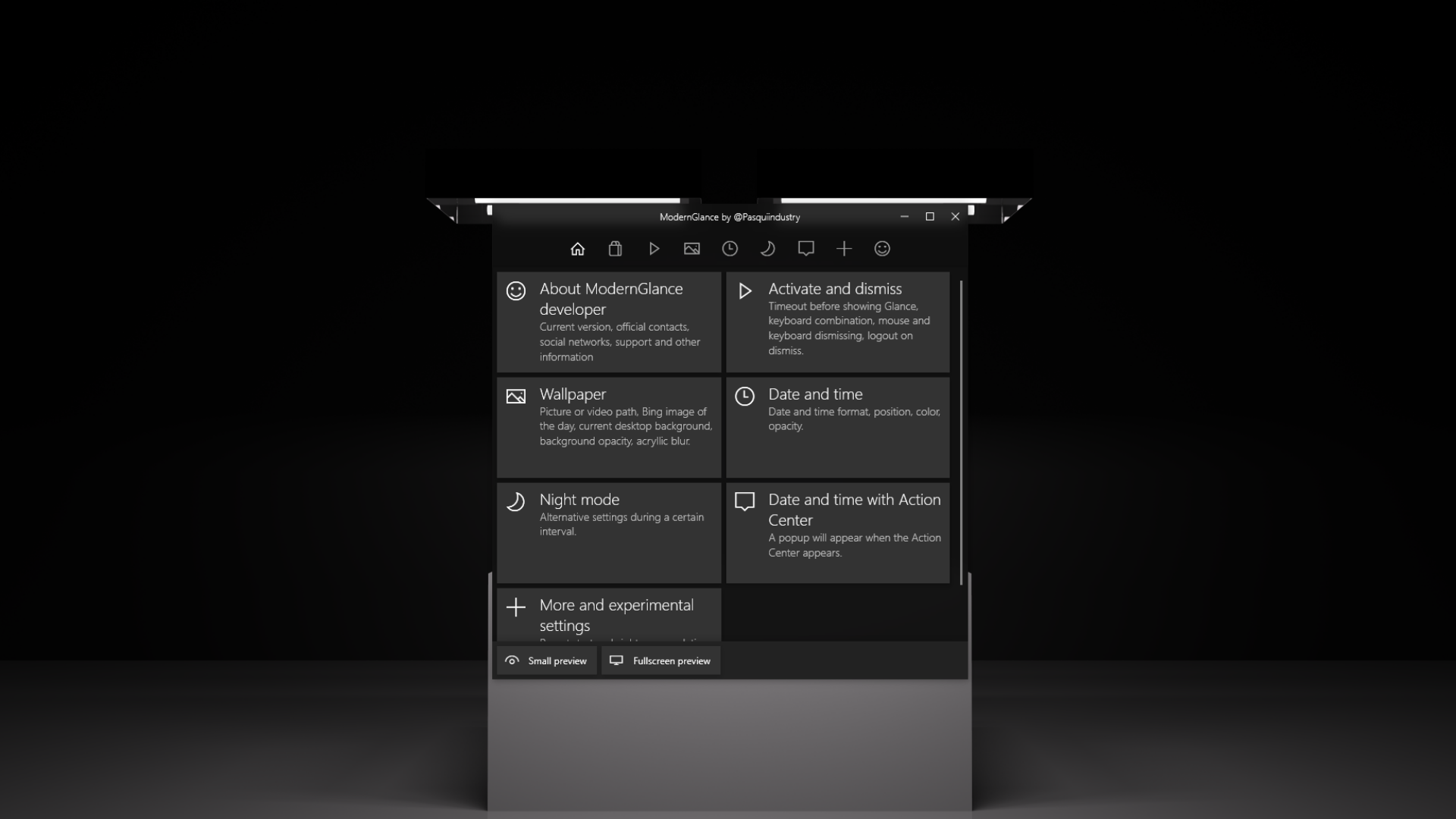 Changelog:
Date and time on Action Center.
If you open the Action Center, a small popup with the current date and time will appear, similar to the charms bar included in Windows 8.

Better user inactivity recognition, now on par with classic Windows Screensavers.
Dynamic date and time position.
This option was made to add some animations and to reduce burn-in on organic displays.

Night mode.
Just like Lumia Glance. It's possible to choose a different color.

Brightness reduction.
While Glance is visible, the display brightness will be reduced. (working only on supported devices).
An option will show the Action Center while Glance is open.
Support for multiple monitors.
Battery status and percentage will be show under the date on supported devices.
New interface, with more animations and fluent design elements.
It's possible to set a key combination for opening Glance manually.
Semi-transparent and blurred background available for Glance.

Better performance and stability for the icon inside tray area.
It's possible to show a notification before Glance appears.
Choose date and time color, opacity, alignment and position.
New preview modes inside the settings window. Now it's possible to show a small preview inside the app or launch a fullscreen preview.
The app has new new resources and icons.
A notification will show to users where the app is placed while it's in background.
If an user opens the app while it's already open, the settings window will appear.
A new and more stable first time window was added.
A wrong message was shown while disabiling automatic startup.
Way less RAM and CPU impact.
It's possible to not show any background from the background selection instead of the effect selection. This option is now called "no background" instead of "black background" to reflect other changes.
Better default settings for most of the settings.
The app is available for free with in-app purchases for:
Video loop as background
Lock the PC after Glance gets dismissed.