Golf with your TS è una mappa dedicata a I Termosifoni per il gioco Golf with your friends.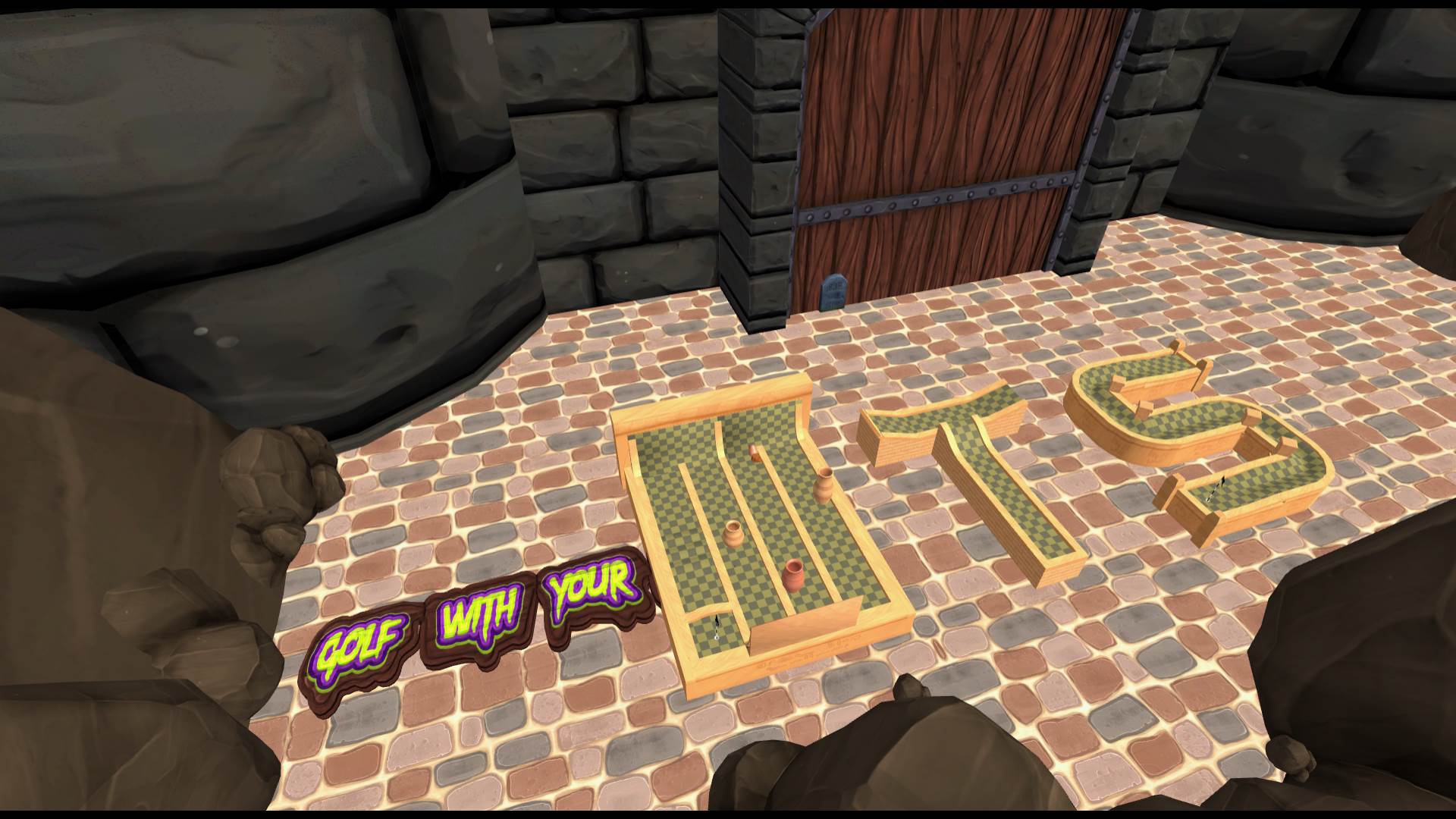 Changelog:
v1.2 (20/01/2019)
Generale: difficoltà ridotta su molti tracciati. Il Par non supera il 5 su tutti i livelli.
Generale: lievi modifiche estetiche e funzionali.
Generale: aggiunti easter-egg, buche e rampe nascoste. Con queste modifiche, diversi livelli possono essere completati con molti meno tiri, anche con solo 1 tiro.
Livello 5: uso del tema invernale.
Livello 5: modifiche nella "P" per migliorare l'esperienza quando la pallina passa attraverso l'ascensore.
Livello 5: La conca nella "V" è stata sostituita da un cumulo di neve.
Livello 6: importanti modifiche per questo livello. Ora è abbastanza più semplice (meno ripido, pareti più alte, nessuna trave sul tracciato.
Livello 8: Il traguardo è adesso una porta da hockey.
Livello 11: Risolto il problema del muro intangibile prima della buca.
Livelli 13, 14, 15: questi livelli hanno subito modifiche importanti. In particolare, il livello 15 è stato diviso in due, con la parte raffigurante "IL" che diventa il livello 14 e la parte raffigurante "15" che resta il livello 15.
Livello 16: in caso di caduta, la pallina tornerà sul tracciato molti secondi prima. Aggiunto un portiere sul tracciato.
Livello 17: il traguardo è adesso una porta da hockey.
Livello 17: rimosso un possibile "muro invisibile".
Livello 18: ridotto il numero di tiri necessari per il completamento, ma ne è stata aumentata lievemente la difficoltà.
v1.1 (18/10/2018)
Riduzione difficoltà dei livelli 6, 7, 10, 13, 18
Aumento difficoltà dei livelli 5, 14
Fix possibili incastri nei livelli 1, 13, 14
Modifiche al par in diversi livelli.
v1.0 (4/10/2018)
Prima versione rilasciata
Featured:
Elenco dei livelli:
Termosifone – Par: 4
TS – Par: 5
Com'è? – Par: 4
Michael Josas – Par: 1
Povo – Par: 5
Rainbow Six – Par: 3
Lord Tachanka – Par: 3
Otto (Pokémon Go) – Par: 3
Padella (Battle Royale) – Par: 1
LD (Luke Darko avatar) – Par: 4
Twitch logo – Par: 4
C4 (TTT) – Par: 2
Sea of Thieves – Par: 2
Il 15! (Parte 1) – Par: 3
(Fino a versione 1.1: Nave 2 (Sea of Thieves) – Par: 3)
Il 15! (Parte 2) – Par: 4
Termosifoni (Death Run) – Par: 5
Machina del Pre-live – Par: 2
Logo termosifoni – Par: 5
Acquista | Golf with your friends
Download | Golf with your TS
Visiona | I Termosifoni – Twitch
Visiona | I Termosifoni – YouTube (Canale principale con contenuti originali)
Visiona | I Termosifoni – YouTube (Canale ricaricamento dirette da Twitch)